We all know that Jensen has the best laugh in the world - Jared has said so publicly, so it must be true.
Jensen's laugh is rainbows and unicorns; chocolate sprinkles and sunshine. It's a fusion of cupcakes and champagne with a dash of naughtiness and just the merest hint of shy vulnerability. It's the panacea to all the wickedness in the world, and it's incredibly infectious. Statistics show that that it has a 99.9% infection rate. This means that unless you are made of stone, dead, or happen to be some kind of primitive invertibrate with nothing but basic motor functions, you're screwed basically! .
Just for the record, it's also ridiculously sexy.
Therefore, it is my pleasure to present this tribute to the most adorably eye-crinkling, head-dropping, body-shaking, mischief-making laugh there is. With special guest appearances from our lovely Jared and Misha...
Enjoy!
Laugh and the world laughs with you.
And when you laugh like this, who can blame it!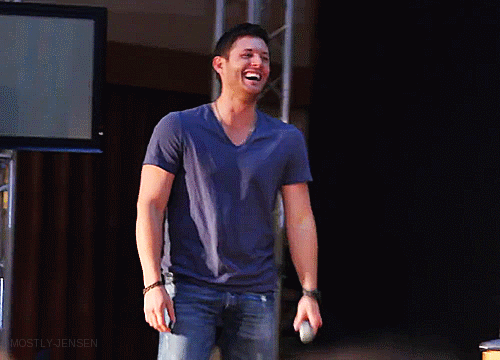 (
Collapse
)