It may have escaped the attention of my lovely f-list, but the fact stands that our darling Jensen has a mighty fine pair of shoulders.

Like a pair of granite megaliths they are imposing wonders of the human world, a sight to draw gasps of awe from all who behold them, and yet they are frequently glossed over in favour of sparkling green eyes, dazzling smile, fuck-me freckles, swaggering bow legs, obscenely plush lips ... etcetera etcetera

Occupying that picturesque hinterland between glorious face and magnificent chest, it's hardly surprising that our boy's shoulders are often overlooked. Therefore, with that in mind, I am here today to put that grievous injustice right and therefore, without further ado, I am thrilled to present:



Jensen's shoulders - a small appreciation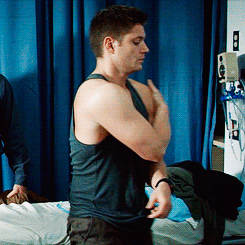 Observe the magnificence, C'mon Jensen, give us a twirl ...



Jensen's shoulders began to develop at a young age.



Even at this tender age they had gone beyond impressive and were hovering somewhere around breathtaking.



They looked great wet.



Especially now they've grown bigger, leaving breathtaking behind and entering the realms of spectacular.



Castiel likes them.



Maybe a little too much.



Pamela likes them too - although she possibly prefers that one.



They look good in one layer.



Don't believe me?



Your honour, the defence rests ...



They look mighty fine in two layers too.



They don't look too shabby in a suit either.



Or leather.



Um, leather, yeah ...



And epaulettes - don't get me started on epaulettes ...



Then there's the gun holster - oh bloody heck, bear with me; I'm just going to step over here so I don't leave scorch marks on the couch ...



One of the reasons Jensen's shoulders are so nice and strong is that they are attached to his biceps.



I mean, you need the lifting power of a JCB to carry those puppies!



Of course, they're also attached to his chest.



And that's a bad thing ...



Said no woman - EVER.




So, let's hear it for Jensen's shoulders ...

Whether they're hiding under one layer,



Or two,



Or even three ...



We celebrate them wet and naked in all their beautiful forms.

Credit:
Gifs
rebloggy.com
bbanditt.tumblr.com
favourite-spn-quotes.tumblr.com
Other pictures sourced through trawling Google and Pinterest - let me know if you're due credit!